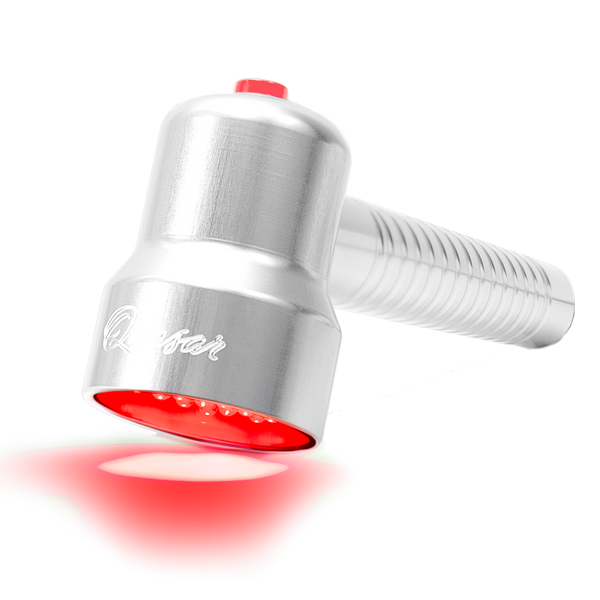 QUASAR MD PLUS
The Original Clinical Strength LED Light Therapy for Home-Use
Don't let the signs of aging get under your skin! Whether you wish to reduce existing wrinkles or prevent fine lines from appearing, the Quasar MD PLUS is your skincare miracle. Our LED red light technology works by delivering light energy to your skin cells that stimulates the cells to undergo self-repair. Healthier skin cells results in firmer, smoother skin!
3x stronger light output for fewer wrinkles and improved skin texture
4 wavelengths of amber, red, and infrared light for deepest penetration
Large 2" treatment head for shorter treatment time
Medical grade aluminum construction for lifetime durability
FDA-cleared and safe for all skin types
---
Buy with confidence, risk free

Free Shipping within the U.S.

1-YEAR WARRANTY

90 Day Money-Back Guarantee
---

- Quasar MD PLUS Device
- Storage Pouch
- Power Supply
- Goggles
- Lens Cap (to protect LEDs and allow use by different persons)
- Instruction Manual

Relax and let the light do the work!

3 minutes per area - 5 days a week - 8 weeks of treatment

Prep

Start by washing your face and wait until after treatment to apply any creams or lotions.

Treat

Place the device directly on your skin and keep in place until the light automatically turns off after 3 minutes. Move the device to treat your next area.

Nourish

After treatment, apply a moisturizer and use a damp cloth or alcohol wipe to clean your device as needed.

Results shown after recommended 8 weeks of treatment of red light therapy.