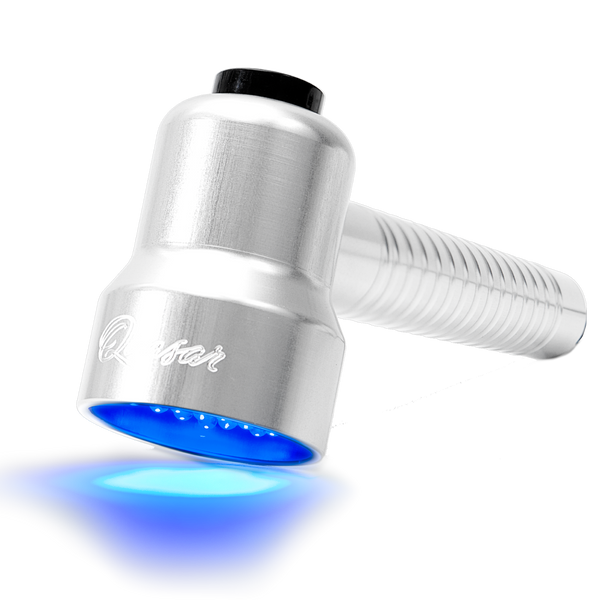 QUASAR MD BLUE
The Original Clinical Strength LED Light Therapy for Home-Use
Acne is a stubborn problem no one should have to deal with! Eliminate it with the QuasarMD Blue. Our LED blue light technology works by killing acne-causing bacteria that lives on the surface of your skin and deep in the pores. By destroying this bacteria, existing breakouts are cleared up and future blemishes are prevented. It's time to take control of your skin!
Dermatologist recommended for clearing stubborn acne
Drug and chemical free with zero side effects or downtime
Large 2" treatment head for shorter treatment time
Medical grade aluminum construction for lifetime durability
FDA-cleared and safe for all skin types
---
Buy with confidence, risk free

Free Shipping within the U.S.

1-YEAR WARRANTY

90 Day Money-Back Guarantee
---

- Quasar MD Blue Device
- Storage Pouch
- Power Supply
- Goggles
- Lens Cap (to protect LEDs and allow use by different persons)
- Instruction Manual

Relax and let the light do the work!

4 minutes per area - 1-3 days a week as needed

Prep

Start by washing your face and wait until after treatment to apply any creams or lotions.

Treat

Place the device directly on your skin and keep in place for 4 minutes. Move the device to treat your next area.

Nourish

After treatment, apply a moisturizer and use a damp cloth or alcohol wipe to clean your device as needed.

Actual user results following 2 week clinical study.